How to Build a Compelling eCommerce Experience with These 3 Tips
By Kristin Naragon, VP of Global Marketing and Strategy, Akeneo
This year, global spending is projected to reach just under $1.5 trillion during this November through January shopping season, with eCommerce expected to account for roughly $260 billion of that. With a seemingly endless supply of competitors and a constant stream of new sales and marketing channels emerging daily, capturing the attention of your audience (and ideally, their purchase) on the digital shelf becomes increasingly more difficult, yet more crucial than traditional in-store shopping.
Brands and retailers need to focus on curating a strong digital product experience on their eCommerce platforms, or they risk consumers ditching their search and looking elsewhere to spend their cash. But what does strong, seamless eCommerce design even look like? And how does product information act as the foundation? Let's take a look.


Seamless eCommerce design should be:
Easy to Navigate
One of the hallmarks of a good eCommerce design is simplicity and searchability; when a customer stumbles on your eCommerce website, the last thing you want is for them to feel confused or overwhelmed. Take, for example, the cycling brand AGU. Founded in 1966, this historic athletic brand has now expanded into the digital landscape and offers a very compelling digital experience.
With strong filtering capabilities, a sleek and modern design, and copious product information on each and every page presented cleanly, customers aren't left guessing what kind of product they're going to receive and when.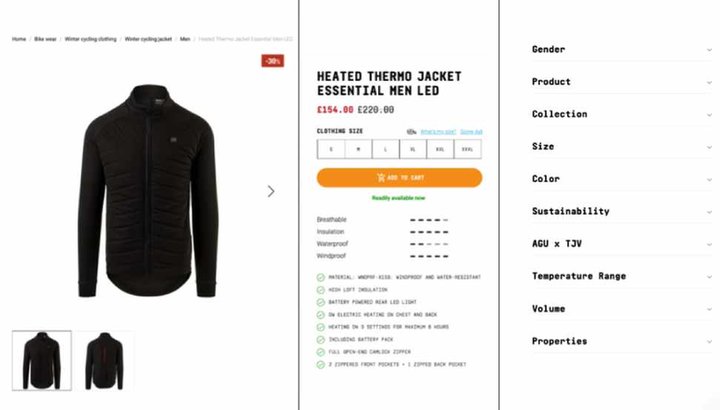 Dutch bicycle wear and gear brand AGU offers their shoppers the ability to filter all their products by gender, size, color, collection, and even by how sustainably the item was made. They make it as easy as possible for customers to find exactly what they're looking for, or to browse their extensive collection for something that piques their interest, enticing them to click that 'Checkout' button.
Consistent Across All Channels & Devices
The omnichannel nature of shoppers nowadays means that you can't predict which eCommerce channel they'll research, discover, or purchase products in. So, a seamless eCommerce design experience doesn't just mean creating a strong customer experience on your own site, but on any and all digital touchpoints across the eCommerce landscape.
Let's take a look at Fossil, a fashion designer brand and watch manufacturer. Whether you're looking to purchase a Fossil watch to gift to your partner on Amazon, WatchShop, or directly on the Fossil site, and whether you're using your phone, tablet, or computer, all the same information you need to make a purchasing decision is presented in a neat, consistent way.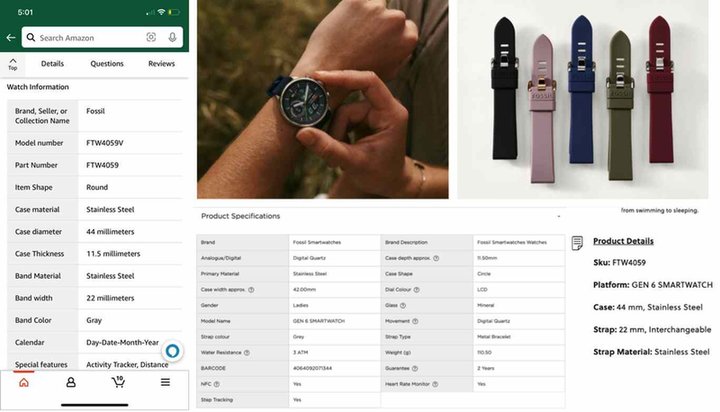 No matter where customers decide to search and spend, Fossil has provided a consistent and compelling product experience to their customers that equips them with the resources they need to make an informed decision.
Contains Accurate & Up-to-Date Product Information
Although the usability and searchability of the eCommerce experience you provide to your customers are important, that functionality means nothing if the product information you're providing is out-of-date or just plain incorrect. If a customer receives a product that doesn't match what they were expecting when they placed the order, you're left dealing with the headache of processing returns and unhappy customers.
Providing accurate product data is especially important since shoppers expect to receive high-quality products in a timely manner. But in order to deliver on those expectations, brands need to have real-time, up-to-date production and shipping information.
City Furniture does an excellent job of this, by displaying loud and clear what each of their shipping and pick-up methods are and what each one entails. This ensures that there are no surprises on the customer's end, and they receive the product they're expecting when they're expecting it.
By providing this information in a sleek, simple, and readily available way, City Furniture is able to set proper customer expectations and help to create that cohesive, reliable experience that breeds customer satisfaction and loyalty.
At the end of the day, digital experiences can vary widely depending on how and where customers discover your brand, and it can be virtually impossible to predict how shoppers will search and purchase. But by presenting accurate and up-to-date product information in a sleek and simple way across all your digital touchpoints and channels, you can create a compelling eCommerce experience everywhere.