An executive conversation with Michael Tucker
Founder & President

My professional experience has been focused on building customer experiences on digital platforms where the end result is brand building and driving online sales. Over the past many years, I have helped brands build their overarching positioning and messaging strategy, developed ecommerce focused sales strategies, as well as the website feature and platform roadmaps. The increasing access to good data has enabled me to embrace a fail fast methodology while being able to quickly report on success and failures while constantly driving business goals.

Over the years, I have been fortunate to work with some outstanding brands including: Hydro Flask, Vail Corp, Intrawest, CMH, Kokatat, Cascade Designs, Osprey Packs, SCARPA, Timberline Lodge, Fisheries Supply, Sage Fly Fishing, Outdoor Research, Nike, Kirkwood, Taos Ski Valley, Sea to Summit, Polartec, MiiR, DPS Skis and more! I enjoy working with brands in the travel and consumer products categories where they create meaningful experiences with their customers.

Bluespark guides companies through the digital transformation process and enables transactional processes online. Our work is initially strategy discovery (why are we doing this? How to measure success?), moving into user research and designing the customer experience (CX) and administrative experiences (how does it work?), creative brand support and UI (how does it look?), technical design, development, & deployment processes (make it work), and then continuous evolution based on data collection/analysis and goal setting.
Founded in 2009, we are a well-rounded team of 15 people. We are thinkers, problem-solvers, and doers that are dedicated to digital strategy, user experience, web user interface, mobile UI, software development, content strategy, and project management. Our approach and process blends our diverse expertise while keeping projects on schedule, on budget, on point, and most importantly, delivering results.
Our agency is staffed with seasoned professionals who provide services at every stage of eCommerce sites development lifecycle: Strategy, Iterative Design/Development/ Deployment, Data Collection/ Analysis/Hypothesis Testing, Site Evolution.
At Bluespark, we've spent years refining our process to ensure that we can repeatedly deliver high quality websites – and the digital experience platforms that power them. We have multiple lifecycle phases. Each phase relies upon the same principles of collaboration and iteration. Whether we're crafting your user experience, designing your visuals, or engineering the code, our processes is human-centered and agile, emphasizing collaboration, empathy, transparency, and efficiency while setting a persistent trajectory toward successful project delivery.
We place a lot of importance on our Discovery phase, which is the process of understanding client's mission, vision, values, business processes and then setting clear project outcomes driving them towards that mission. Our process creates opportunity for exploration, integrates the ideas and insights from multiple disciplines, and delivers results.
It isn't about deploying a specific piece of software or advocating a particular platform. It's about listening to stakeholders and understanding the business; listening and testing user requirements; and then designing a Digital Experience Platform (DXP) tailored to the client. The DXP will not be a singular platform, but an integrated experience comprised of custom code and integrations, with major components coming from accepted Martech stack tools. However, we ensure our clients are not relying on a solitary platform from the martech stack, not buying into the hype of any of them, and relying strictly on their strategy backed with user testing and evolution based on metrics and ROI.

Tomorrow's ecommerce world is already different than today's. This is both exciting and hard. At Bluespark, we understand the challenges and opportunities that come with working in an environment like this one; we understand that our clients need support designing an ecosystem that delivers the value they expect. We take pride in our professional team,which truly believes in helping organizations realize the full power of digital.
At Bluespark, we foster a culture for experimentation and learning. We were born in the spirit of collaboration and growth that comes from vibrant open source communities. We're engineered to share, learn, and grow. We teach at conferences. We write. We explore.
The Bluespark team has received international recognition for technical expertise and contributions to the Open Source community. Our personnel have provided submissions for Drupal 6, Drupal 7, and most recently the Drupal 8 core, and delivered the first Drupal 8 eCommerce deployment.
Optimizing the Customer Experience
Few years ago, Colorado-based custom label and sticker producer, StickerGiant's business growth was constrained by a website that was under performing. As a Forbes top 25 small business, the 39-person organization is 100% online, so their website was critical to their success and growth. They needed a web partner to elevate its web presence and ensure that the site was growing the business – not holding it back. In particular, the site was not responsive and lacked some of the common ecommerce capabilities (such as user accounts and order tracking). Complicating the situation, much of the customer experience was handled offline because the company's CRM system was only partially integrated with its website. That's when Bluespark got in for a complete design and user experience overhaul in addition to mobile experience creation. StrickerGiant saw improvements to the checkout flow and their engagement with Bluespark yielded higher conversion rates.
Among Bluespark's other notable clients include Obermeyer, Ralph Lauren, Beef Jerky Outlet, E.C. Barton & Company, Swiftwick and many others. We are focused on delivering frictionless customer journeys that increase engagement and reduce inefficiencies. But, really the key is to be trustworthy and to deliver. We do not candy-coat an issue. It is ok to be optimistic, not ok to promise only the optimum outcome. Being honest is the key. We do what we say, and say what we mean.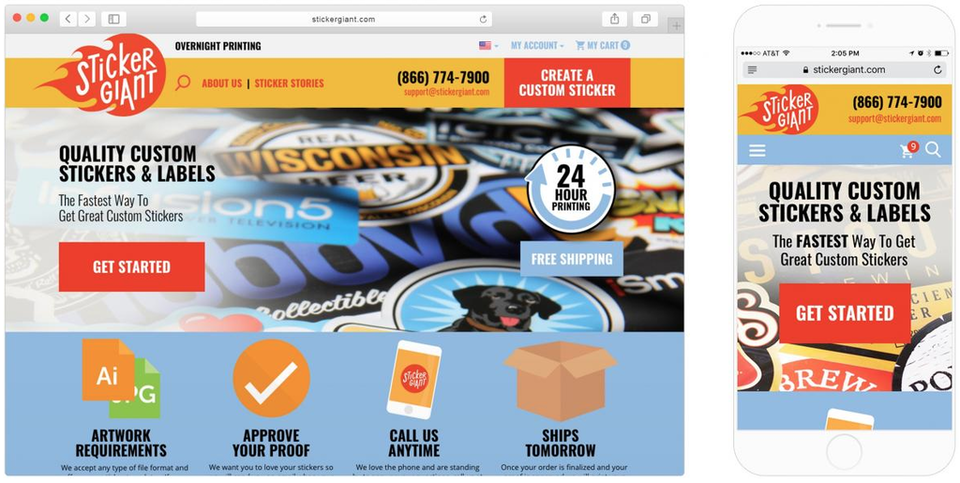 Distributed team: Truly international
Since founding Bluespark in 2009, and right from the beginning, I developed the company as a fully distributed team. We participate in the open source community and attend conferences for these technologies around the world, but primarily in Europe and the USA.
Traveling is a passion, and traveling to learn—the local culture as well as the technology presented in conferences we went to—is the best way to meet some of the finest best trained equally passionate people in our space. It was clear that if I wanted to build a team around the best in the industry, I couldn't ask them to uproot family and home and move thousands of miles simply to sit in an office next to me.
Further, as a distributed company of professionals, you must give one another flexibility to integrate working hours into the day in a way that makes sense for your life. So, if your son has a soccer game…. Go. Your spouse suddenly needs you for a few hours? Go. You need 3-4 weeks to chill and unplug? Go. We built our practices around knowing that a pro is responsible for his or her work and to their team. They will seek a healthy life/work balance and will coordinate with Bluespark to make sure our purpose and projects are not interrupted. So, professionally, I work with the best, and we have life/work balance.
High Art Meets Practicality
On the personal side, my interests are travel and culture. Food and wine. Mechanical things, primarily cars and motorcycles, but extending to the mundane like vinyl records, guitars, fine Italian shotguns (clay shooting), shepherd and hunting dogs, flyfishing, kitchenware and cooking. I prefer to be classically stylish vs trendy.
Our home is filled with objects, furniture, and art that we've collected vs what a decorator or department store sells. If I buy anything, clothing, a car, something for the home, etc., it is carefully chosen and expected to last a lifetime. My wife and I believe in building to last, and that translates directly to our lifestyle and to business. We are classic explorers and adventurers and would rather create and foster experiences vs amassing random "stuff".

We live just outside Austin TX in a town called Driftwood, and we love the American West meets Mediterranean landscape and climate. But, most of all, we love the spirit of Austin. It is cowboy meets hippie meets culture meets city; all rolled together in a uniquely maverick vibe. It is the live music capital of the world. You can go see a show in a funky little club or honkytonk or you see the Stones in a stadium. You can see inspiring street art or can can attend a world class art gala in a tuxedo. You can attend the F1 Grand Prix of the United States or can go see roller derby and get a taco after; or anything in between. It's an amazing place to live and work.

This lifestyle sums up Bluespark as well. Its high art meets practicality. It's a studied approach to figuring out how things work, large and small. It's all about making the right decision and building things that last; projects designed and built on quality and style. It is sometimes a cowboy's measured risk met with a banker's calculated ROI. And it is about creating wonderfully broad and varied "place to live" i.e., work, for our team.