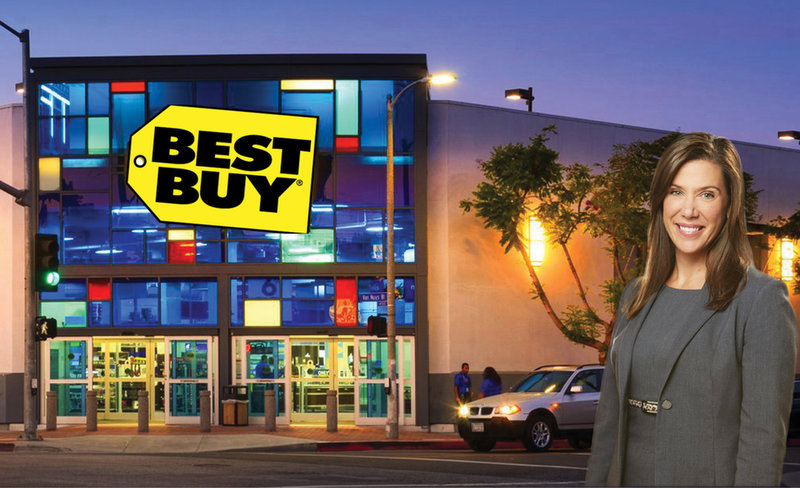 Corie Barry is CEO of Best Buy Co. Inc., the leading provider of consumer technology products and services, with approximately 125,000 employees in North America and nearly $43 billion in annual revenue. She also serves on the company's board of directors. At 44 years old, she is also the youngest female CEO in the Fortune 100.
Prior to becoming CEO in June 2019, Barry served in several other executive positions, playing a critical role in developing and executing the company's Best Buy 2020 growth strategy and related transformation. Most recently, she was the company's chief financial and strategic transformation officer, overseeing strategic transformation and growth, digital and technology, global finance, investor relations, enterprise risk and compliance, integration management, and Best Buy Health.
Barry joined Best Buy in 1999 and has held a variety of financial and operational roles across the organization, both in the field and at the corporate office. She became CFO in 2016 and, prior to that, served as chief strategic growth officer. She has also served as senior vice president of domestic finance and interim president of Best Buy's services organization.
Barry's wealth of experience at Best Buy is unmatched. Her meteoric rise up the ranks and handling wide range of jobs (Over the last 20 years, Barry held about 15 positions at Best Buy) was not an accident. Barry once said in an interview with CNBC, "My career path is anything but linear. I spent time in finance. I spent time actually living and working in the field in retail. I spent time running services. I started our strategic growth office. I've had the chance to run our technology teams." And in an interview to Seattle Times, she said "One of my preconceived beliefs was that a breadth of experience was very important at a large company like this. As you move up in an organization, the job becomes less specialized and the skills of critical thinking, problem-solving and communication start becoming more important than technical strengths."
Before joining Best Buy, Barry started her career as an auditor at Deloitte & Touche. A Minnesota native, Barry holds bachelor's degrees in accounting and management from the College of St. Benedict, where she now serves on the board of trustees. Additionally, she serves on the board of directors for Domino's Pizza.
The Wall Street Journal reported in January that an anonymous letter was sent to Best Buy's board in December stating its CEO was romantically involved with a former vice president at Best Buy that lasted for several years. Best Buy hired an outside law firm to investigate the allegations. Last month, Best Buy's board cleared the CEO after independent investigation.
In the wake of such an allegation, Barry stood firm and continues to focus on what's best for Best Buy. A collaborative leader that she is, Barry takes advice from all levels. As Hubert Joly, Chairman and former CEO of Best Buy states, "Barry is a very human, authentic, purposeful leader."
Barry's message to other women is to "Make yourself uncomfortable. Take the jobs that no one else wants. Speak up with the point of view in the room that may not be popular. Have those uncomfortable moments. Because my strong personal belief is it is those moments that cause you to grow the most yourself, but that also differentiate you the most in your career."