Driving Excellence in Digital Grocery
At Mercatus, we talk a lot about eCommerce through the lens of the 3Cs – control, cost, and convenience. Each "C" plays an important role in building a sustainable and profitable eCommerce strategy.
Let's start with control. In the last two years, we've been encouraged to see grocers making significant investments towards owning their first-party channel. One of many factors driving these investments is the realization that third-party marketplace solutions erode consumer loyalty. The better we understand the impact of marketplaces like Instacart have on customer relationships, the more we're seeing that customer loyalty goes to the marketplaces - not the grocers. With a strong first-party commerce solution, grocers can take back control of their brand experience, customer data and invariably their long-term success.
Cost is about offsetting the high cost-to-serve for pickup and delivery. With margins being what they are in the grocery business, it's important for grocers to unlock operational efficiencies and monetize traffic through digital advertising. For example, our research shows that higher prices, extra fees, and tips are motivating more customers to use curbside pickup over delivery. This presents a good opportunity for grocers to promote their pickup services and leverage batch-pick solutions to reduce the cost-to-serve.
Last but not least is convenience. Most eCommerce customers choose to shop online because they value the convenience it provides. If grocers aren't delivering this convenience from the moment their brand engages with the customer, there's a high likelihood they'll lose that customer. Grocers should focus on convenient features that make key shopping activities such as basket building and checkout as simple and seamless as possible.
Have Grocers invested enough to drive online commerce in the last two years? What's the road ahead for them as they evolve their eCommerce strategy?
At Mercatus, we talk a lot about eCommerce through the lens of the 3Cs – control, cost, and convenience. Each "C" plays an important role in building a sustainable and profitable eCommerce strategy.
What are some of the online challenges that grocers are still facing?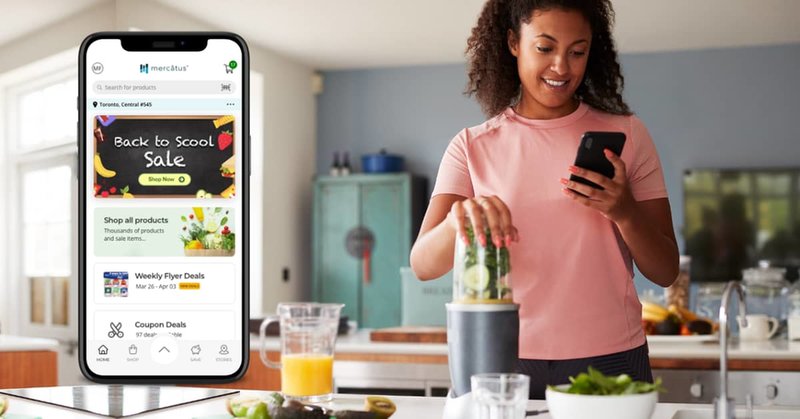 Before the pandemic, eCommerce was seen as a way to differentiate your business, but it wasn't a serious contributor to revenue growth. During the pandemic, demand grew remarkably, and those who supported customers with online shopping saw an increase of about four to five times the number of online orders. The challenge was then mainly around scaling to meet the demand. Today, for grocers who have successfully scaled to meet the sustained demand, the challenge lies in finding a sustainable path to profitability. The market is as competitive as ever and we've seen challengers like quick commerce providers come and go. With this as the backdrop, we see two main challenges for grocers to address.
The first is the need for a stronger strategy around customer retention. I'm excited to see client initiatives invested in acquiring and converting new customers, such as a digital marketing campaign to attract first time shoppers during a store launch. At the same time, I'm discouraged to see their investment go out the back door when customer retention isn't a core component of the strategy. Our data shows that a customer's 2nd, 3rd and 4th online order is critical to securing a repeat customer, and targeted investments such as personalized offers to secure those engagements is essential.
The second challenge is the need for better integration between brand development and omnichannel strategy. Too often grocers make their online experience everything to everyone, but history has shown this is a recipe for failure. Regardless of whether you're a high-low, everyday low-price, or premium grocer, your omnichannel strategy should be focused on extending your brand's value proposition to your core customers. The brand integration strategy should then guide your omnichannel decisions, focusing your investments on capabilities most valued by your core customers (e.g. discount offers, loyalty programs, fulfillment options).
In the last two years, have there been cases where grocers hastily invested in online commerce and later found they were stuck with inflexible technology integrations and costly third-party system integrators? Give examples of such clients who later switched over to Mercatus.
I think it's interesting to look at key moments over the past few years and see how eCommerce has evolved in the grocery market. In 2017, we saw Amazon buy Whole Foods which led to an industry-wide rush to adopt an eCommerce solution. In 2020, the global pandemic pushed the industry further forward into online commerce. This year, we've seen Instacart launch virtual CPG sponsored storefronts and file a confidential IPO to fund their growth.
When we look back at these events, we can see how consumer demands have evolved and grocers have reacted to the market. Oftentimes, it's been a bit of a gut reaction – whether through a new mandate by investors or the board of directors to accelerate digital transformation. This reaction can sometimes lead to hasty or ill-fated decisions on how to approach online commerce.
Grocers need to take careful stock of their options. For example, if they consider some of the options we've discussed here, they need to think about which work best for where they're at today. Which one will most enhance their business's ability to control customer relationships, manage the costs of fulfillment, and enhance the convenience factor for their customers?
Our recent implementations with Kowalski's Markets to extend their premium brand experience and with Stater Bros. Markets to expand the convenience factor for their customers are good examples of retailers that have successfully made this transition.
Accelerating Digital Transformation